How to Differentiate Between Cloud Infrastructure Providers – Part 4 of 5
Not every IaaS company is the same. The important thing is to pick the right type of organization that meets your needs today and tomorrow. IaaS companies tend to fall into three categories, global technology providers, pure-breed infrastructure providers/managed service providers, and small hosting solutions/managed service providers.
Global Technology Providers
These are the household names such as Google, IBM, Amazon, and Microsoft. They are large technology providers that have included a hosting platform in their offerings. They tend to be more formulaic in how they interact with clients and can have proprietary technologies for their platform. These vendors have complex technology platforms used by millions of clients, which has caused security, performance, and reliability issues. They also lack more high-touch and responsive customer support and account management for all but their larger clients.
Best Fit: Large enterprises that have strong IT staff, infrastructure expertise, and a cloud-ready application. They must be willing to align their long-term technology strategy on a single, large, and proprietary platform.
Infrastructure Provider/MSP
These organizations tend to be smaller than the global technology providers mentioned above and focus only on the IaaS space but sometimes provide more than just infrastructure, such as managed services, fully managed environments, and other offerings. They tend to be more customer-focused and technology agnostic while still providing a state-of-the-art infrastructure. These providers tend to be more hands-on with strategic guidance and have the necessary agility to address growth and technical adjustments required by their clients.
Best Fit: Small to mid-sized software providers that are looking for a combination of a technology-agnostic partner with a business focus that will free up their own IT resources. Clients value an all-inclusive offering that provides expertise on a wide range of technology subjects including implementation strategies, migration, growth, and security to provide a tailored infrastructure focused on business goals, immediate and future needs
Small Hosting Solutions/MSP
These smaller solution providers are vendors that buy into the Global Technology Providers platforms or white-labeling from other infrastructure providers and then offer additional services. This means they don't have much control over the hardware or platforms they are providing their customers and can suffer the same support and reliability issues as the direct clients of those providers. Other providers on the small side often don't have state-of-the-art technology. These organizations tend to be very agile and will try to be highly responsive to their clients but can suffer from resource constraints.
Best Fit: Organizations that are looking for a simple hosting solution. Smaller hosting providers often only resell other providers' technology platforms and don't have direct control and accountability over what their clients are using. However, these vendors can be a good fit for clients that prioritize personalized service over the ability to scale, deeper technical expertise, and supporting organizations evolving business needs.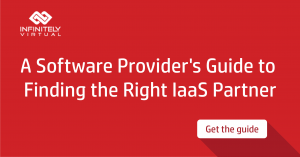 Knowing the different types of IaaS providers is crucial to achieving your company's goals, but there's still a lot more to picking the right fit. In the next post, we will be going further in-depth to what makes the right IaaS partner for you. However,  If you don't want to wait for the series you can access all the content in one of two guides that we created. 
Click here to learn more. 
Infinitely Virtual is Your Quality IaaS Partner
Make a smooth and painless transition to a better deployment solution with Infinitely Virtual. We will work with you to tailor a custom IaaS solution to suit your company's specific situation. Give us a call today at 1.866.257.8455 and chat with us about your business needs.
https://www.infinitelyvirtual.com/wp-content/uploads/2021/04/iaas-blog-image-part_4.png
842
1501
bbadmin
/wp-content/uploads/2021/12/logo_iv.svg
bbadmin
2021-08-29 10:23:15
2023-01-16 19:00:10
How to Differentiate Between Cloud Infrastructure Providers – Part 4 of 5