Top 5 Concerns When Looking for a New Cloud Infrastructure Partner – Part 2 of 5
Top Concerns of Companies that are unhappy with their current Cloud 
Can my cloud infrastructure support my future needs?

Is my application and data secure?

Is my application up and performing for my clients?

Am I using everything I'm paying for from my provider?

How can I decrease the use of my internal technical resources?
Deploying a solution to a SaaS environment is not easy or simple, and the bad news is the launch is just the beginning. Having a SaaS solution is like having a child. It is challenging and complicated the day it is launched and as it grows things get more challenging and complicated.
Having the right infrastructure partner that fits your needs today and in the future is not just technically important, but the key to the success of your business. As your solution requirements and business evolve having a partner that does not meet your needs can degrade the security and performance of your solution, decrease your client's satisfaction, and cause clients to leave your platform.
Sometimes it is necessary to look for a new infrastructure partner, and while moving to new infrastructure is something that no one looks forward to if you are going to be successful as a company it is often mandatory.
Finding the right partner is not just about pure technical capabilities, but how their services, support, and business practices will support your technical personnel, solution roadmap, and business growth. Switching infrastructure platforms is something that no one wants to do but sometimes is necessary when the provider you're using today is not meeting your needs. In this document, you will find how infrastructure providers differ even when they claim to be offering similar services.
Thanks for reading this excerpt from the Finding the Right Partner series. In the next edition, you'll learn more about what resources it takes to move and support your application in the Cloud.
If you don't want to wait for the rest of the series you can click here to access the two newest guides. 
Infinitely Virtual is Your Quality IaaS Partner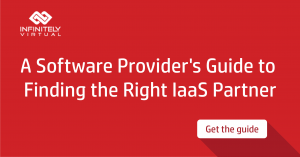 Make a smooth and painless transition to a better deployment solution with Infinitely Virtual. We will work with you to tailor a custom IaaS solution to suit your company's specific situation. Give us a call today at 1.866.257.8455 and chat with us about your business needs. You can also learn more about what we do to support our software companies for long-term success.
https://www.infinitelyvirtual.com/wp-content/uploads/2021/04/iaas-blog-image-part_2.png
842
1500
bbadmin
/wp-content/uploads/2021/12/logo_iv.svg
bbadmin
2021-08-29 10:17:56
2023-01-16 19:00:16
Top 5 Concerns When Looking for a New Cloud Infrastructure Partner – Part 2 of 5